This week, UP Journalism Club, my org in CMC, is celebrating its anniversary week.  To lowlives aka members like us, this of course spells stress because we have to come up with and attend activities to make our anniversary week relevant not only to us but to other masscomm students as well.
I just finished ironing my polo for tomorrow's event, a forum on libel, which I will be hosting.  (Come to think of it the last time I ironed my clothes was way back in high school.  Jeez!  Naalala ko bigla kung gano kahirap mag-plantsa, leche!)  I also just came from our poetry night at Maginhawa St., where Alamid also performed!  I was giddy excited about them because I love their song, Your Love, so much.  I also got a chance to recite Awit ng Pag-Ibig XX, Pablo Neruda's Love Song # 20 translated in Filipino by Virgilio Almario.  When I got to the lines Hindi ko na siya mahal, people started reacting violently, obviously alluding to my recently-concluded relationship (naks, parang event lang.  haha).  But of course it doesn't come with a But, for the next lines were ngunit minahal ko siya nang lubusan. Odiba may ganon.  Hahaha ang fun, naging stand-up comedy ang poetry reading ko.  =P
If you have time tomorrow (yak as if anybody's reading this :P), please do attend our forum on Libel entitled Suit of Cards: a Forum on Libel. Bigatin lang naman ang mga speakers namin, ano, kaya when I learned na parang talk-show format ang program namin, parang gusto ko biglang maihi.  Hahaha.  Akala ko parang emcee lang kami dun ni Jen.  Host pala talaga.  Shux.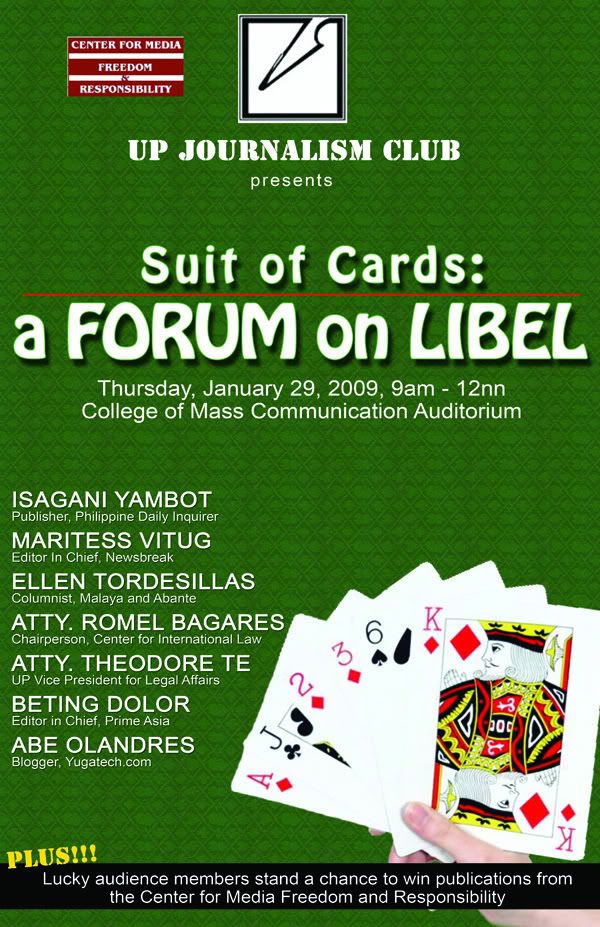 Anyway, it will be held at the CMC auditorium from 9am-12nn, then Bonggang Grand Pakain namin right after!  Masaya yun!  Hehehe.  See you there ah?  Shet inaatake na naman ako ng MPD ko hahahaha 😛
Thsi week, UPJC Anniv.  Next week, THESIS!  Haaaay stress, bring it on kahon!
——————————-
When I'm already working, I wanna buy one of them Rackmount monitors.  Yez, self-indulgent luxuries FTW!  😛