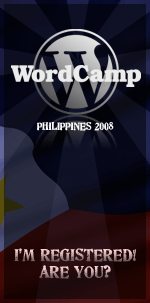 Great news to all WordPress fanboys out there.  The people from down south but not-so-down-under are organizing WordPress enthusiasts into an event aptly dubbed WordCamp Philippines 2008!  The event will be held on September 6 at the College of St. Benilde in Taft Avenue, Manila.  We're so fortunate because the granddaddy of WordPress is paying us a visit on September 6!  Yes!  Matt Mullenweg himself!  Geezus!
I don't know about you, but I'm pretty much excited about this event.  It's touted to be one of the biggest events this year because, admit it, most blogs out there run on a WordPress engine.  I hope I get to learn a lot of things through this camp, especially how to make my own WordPress themes.  I vowed to learn that last summer, but unfortunately time didn't permit me to swim my way through all those complex codes and whatnot.  This September, hopefully, hopefully…
If you haven't registered yet, better register now because the slots are slowly getting filled up!  If you don't know how to go to CSB, check out this map posted on the official WCP website.  Also, merchandise are on their way!  I ordered a Maroon WordCamp Philippines shirt for myself because it's double-purpose (It's WP and it's Maroon for UP!).
Isn't this exciting?!  Just thinking about all the things I'd learn and all the fellow WordPress users I'd get to meet is giving me the hibbiejibbies.  Brrr…
By the way, this event won't be possible without our friends from Mindanao, the Mindanao Bloggers, Inc.  Thanks for organizing this event for us!
The following sponsors also made this event possible:
O, ano pang hinihintay mo?  Join na!