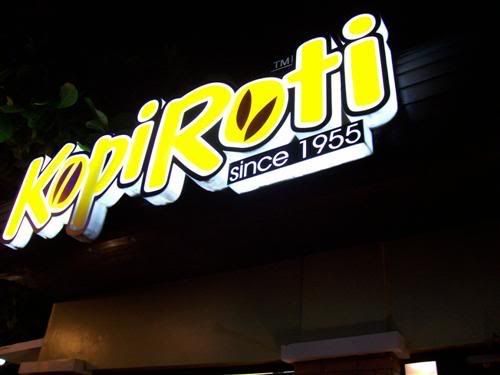 Everybody
now: HAAAAAAAAAAAaaaaaaaayyyyyyyyyyYYYYYY…!!! Finally, a deep, heavy, loud sigh to cap off this semester! Hehe…
After all the bangag nights, the ngarag moments, the haggard days and the sleepy class meetings, finally, the semester is done done done DONE!
And what better way to end this semester than fun time with the people you love? After our staff meeting for BuskoDays16 last Saturday, Kuya Luis, Leo, Jesser and I went malling and eventually headed off to KopiRoti for some coco and the most-awaited Kopi Bun! Haaaaa sarap! What a way to end classes and kick off the summer!
Sigh… I sure am going to miss this semester. This is the first sem that I've spend most times in masscomm. This is the first sem that I've been most haggard and bangag. I believe this is the first sem that I've worked real conscientiously to up my grades… haha, inspired? hmmm… maybe! =) (uuy issue) I don't know… I just felt the greater need to focus on my studies this time. Reality Check siguro, hehe.
I'm never gonna forget this semester, especially the people I've been involved with. The fun yet crazy field trip in J102… the bangag days and nights preparing for our PR plan (which we aced, take note!)… the asar moments every group work on Hum1… the extre effort given for every meeting of Film100 (too bad Ma'am Ellen's retiring already)… haaayy, all of them, I'll never forget them all… how I love my College so much! Aja! Next sem naman!!! Hehe…
To my J102 class… Gelene, Denise, Froi, Mark Ching, Mommy Trish, Dyan, Mikas, Mimi, Jeff, Marj, Jem, Rachel, Dreo, Missy and Kuya Chris… thanks for giving color to our class. For that we are the most colorful personalities in masscomm, straight from Ma'am Rachel's mouth. Thanks for the laughs during discussions and the laugh trips and crazy antics during the field trips… I've never thought Journ could be this interesting had it not for all the colorful personalities in you… Thank You!
To my Hum1 groupmates… Rea Jean, Anne Lucille, Paula Jean, Fanshen Angelik and Cathy… thanks for all the help in our group works. Most promising minds of UP! Naks! I feel so old when I'm with all of you (with the exclusion of Fanshen of course). Have fun in UP okay?
To my Eng11 classmates… you are the class I never got to know. Dr. Dalisay was great, nevertheless! =P
To my Comm100 classmates… I never got to know all of you, but in the limited time we were able to know each other, you put a smile in my face, seriously! Walang stir 'to… let's go future media practitioners! =)
To my Film100 classmates… we suffered under Ma'am ellen… she barraged us with schoolwork and tons of readings… but we were able to make it through, unscathed at that! We lost quite a few, but we remained together 'til the end… Thanks for the inspiration to study harder… and thanks for the times we're able to laugh at all our hardships. Aja! Bye Ma'am Ellen…!!!
To my J152 classmates and groupmates… YOU'RE. SO. GREAT! Grabe the sem that was… I enjoyed most parts of it, especially the Pasig River Volunteer work we did! =) That was really swell, I had fun with all of you! And to my groupmates, thanks sa pagtitiis sa akin, hehe, munting marginalized sector. And congrats to us on winning the PR Plan competition! Wuhoo! We beat THEM! Nyahahaha I'm so mean, but really, I'm really happy we beat the other group (you know, yung kinakatakutan natin). Thanks sa lahat ng patawa, intriguing questions and bangag moments with all of you. I learned a lot! Good Luck on our next endeavors! (Advert naman!!! =P)
To all of you, I can only say one thing: Thanks for the memories, I'll treasure them forever! AJA!!!