Mi Academia
I got terribly early to school this morning, afraid of getting into the situation I was in last Tuesday when I almost ran late for my NatSci1 class because of heavy traffic in the Ikot route. This morning, however, I arrived at school early. Too early. An hour early, to be more specific. Talk about getting pretty excited for a class I distaste so much!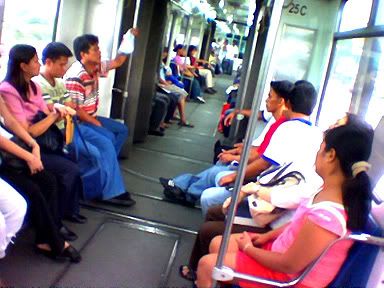 The MRT has become such an essential commodity for me lately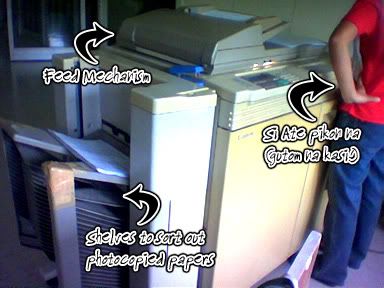 Haha! Inextend ko ang paglalunch ni Ate Jobel by a couple of minutes, 300++ yung pina-photocopy ko and I had to photocopy two readings, the other one for Mico. If not for this handy machine, baka hanggang ngayon nagxexerox pa si Ate. Hehe. Ü
It was my first time to see a xerox machine like this, having been accustomed to the regular xerox machines we had back in Buskô. As you can see, it has this sort-of shelves that automatically goes up and down to sort out the photocopied pages. It also employs a paper feed mechanism, much like what we see in our printers, so that Ate here could just pile up a bunch of pages and feed it to the machine, and it automatically gets photocopied. Cool huh?
Da Chika Radar

Alien! Alien! May Alien sa UP!!! :p

Ang Melchor, ang wari-mo'y kambal ng Palma Hall (o AS)