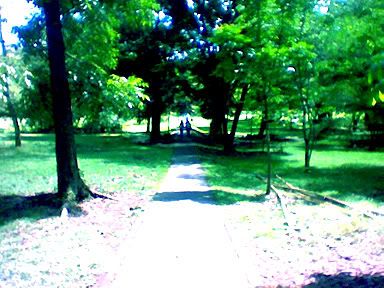 The UP Diliman Beta Way
The Beta Epsilon Way, or
Beta Way
, is a long concrete path traversing the width of the UP Academic Oval. This is the most convenient path when you want to go to Melchor Hall (Eng'g) from AS (Palma Hall) and vice versa. It, for the past few days, also served as my "walk path" when I idle around waiting for my next class to start.
Sadly, first week hasn't been so much great for me. I would especially like to mention that I absolutely abhor my T-F schedule, when I need to kill time just to wait for a 4pm Kas1 class. Frankly speaking, I don't have anything to do for 5 hours but sit in the AS steps, listen to MP3, read e-books or just plainly stare at the people walking in front of me. It's absolute hell here on earth. I tried to prevent getting bored from the idleness by walking in the premises, but it did me more bad than good. Either way, I always end up either woozy or headache-y for my Kas1 class. Curse my goddamn schedule, curse it.
Yesterday, in an attempt to kill time (and to also escape the possible sanity of lonesome), I went to SM North Edsa just to chill out. And boy, did I chill out (and hurt my legs and tongue). I've got to admit, I detest going to Malls without money. I was only able to kill an hour and a half of my 5-hour wait, because I hate the fact that I can't buy the things I'm eyeing out in the mall.
While on the jeepney, I saw this fellow Iska. Nothing special about her, but with her bag, there is. I was stricken with a sudden jolt of surprise when I saw her Illustrazio bag. We exchanged dark looks, but only melted into a sneaky smirk when we saw each other's bags. They were the same. And here I am I thought I bought the most unique bag in the whole wide universe.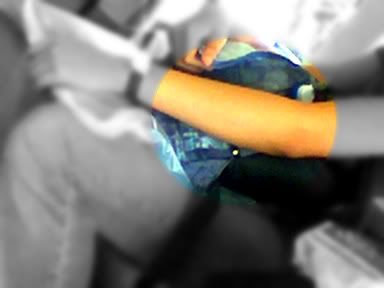 I secretly snapped a photo of her bag! (Haha… bad JM! Para ka na ring nag-wire tap nyan!)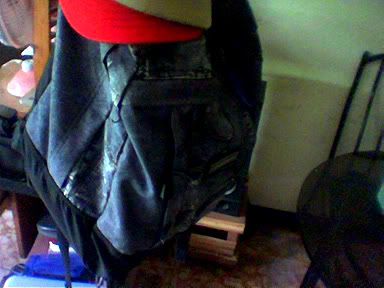 This one's my bag. You can see that we both have an Illustrazio Denim-style backpack
*Sigh*… no class on Monday, the day with my most favorite schedule. On M-Th, I have a Math2 Class (weee aircon ang classroom!), a Creative Writing class (something I'm looking forward to this semester) and a PE class (weee walking! Haha… if you haven't guessed yet, yes, I love walking).
*Sigh*… I hope I get to have an org soon. I'll sign up for MCO (Mass Communicator's Organization) when the signups begin. I'm thinking of affiliating myself with one org only, for me to balance the whole College equation. Study, friends, and extra-curriculars. And besides, I still have VESSEL to keep me busy. Har har. We're on an "overhaul" phase right now. Can't wait for the briefing later!
[EDIT] I learned that Hale's gonna perform in our Minifair thingy!!! Coolness!!! Haha… papa-piktyur na ko!!! :p
Shout out sa K-6 block!!! Mwah mwah mwah!!!