This is completely random, as in. I couldn't remember the dates nor the chronological order the things happened, but whuddaheck. >_^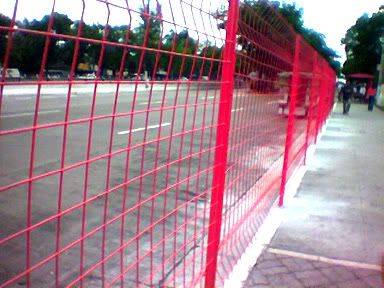 This is what I would like to call, the Pink-et Fences (Corny talaga ako by nature…)
These pink fences were installed just last week, because that was the only time I noticed it while going to UP (in Quezon Ave., Pantranco Terminal). I guess it's for discipline's sake na rin, because people tend to ride the jeepneys right at the side of EDSA, which is a killer highway by the way. These pink fences ought to be here in sidewalks, not on the road because it really causes accidents (especially those huge cement barriers). One downside with this, though: a long walk before you finally get to ride a jeep. But whuddaheck, we need to discipline ourselves, right?!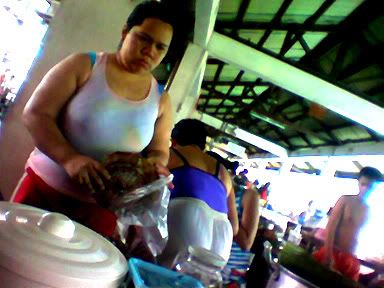 Ummm… sungit? Naubusan siguro ng food…
Went to Pansol with Ate Tin and her family (including Kuya Juvelan, since he's her cousin) last May 8. We rode the jeepney to Laguna and boy, were we jampacked! I didn't like the place at all, but I enjoyed their company all the while. The water was uber hot, a trademark of Pansol. AND YOU DON't WANNA KNOW WHAT COLOR THE WATER IS. (It's green, by the way, with little black trinkets of God-knows-what floating by the sides of the pool). Pansol, never again!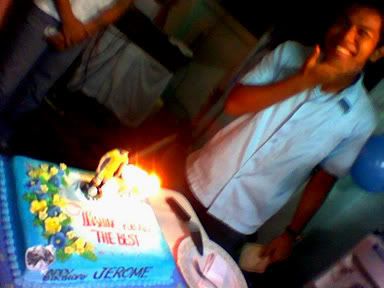 Bye, Jerome! It was a nice 2-3 years with you!
Jerome held his birthday slash thanksgiving slash communion slash send-off slash whatever party last May 16. All his friends, relatives, his parents' friends, churchmates and everyone who knows him were there. It was a somewhat lonely night, as Jerome has finally decided to enter the seminary. Well, whatever it is you want in life, Jerome, we, your friends, are always here for you!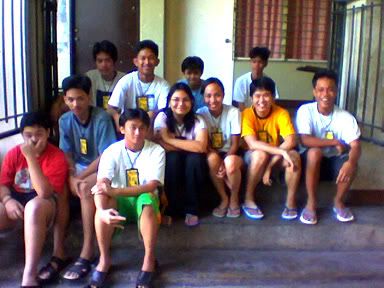 The newest, freshest, latest DWTL Batch of DonBosco Dayzers, Batch 13! (front row L-R) Imman, Jano (2nd row) Jason, Anne, Mimi, Melvin and Kenneth (3rd row, topmost) Igy, Carlou, Rex and Mico
This has got to be one of the best BuskoDAYS Workshop I've ever attended. It was GRACE under PRESSURE, since we had only about one week to concretely prepare for the workshop (former weeks were allotted for just planning, not execution since we were oblivious as to where the workshop would be held). We had tons of problems but we've surpassed them all, complete with smiles on our faces. Congrats on Batch 13, and good luck to Batch 14's Rectress Ate Odie and her super gorgeous and funny Vice Rectress, Ate Jel!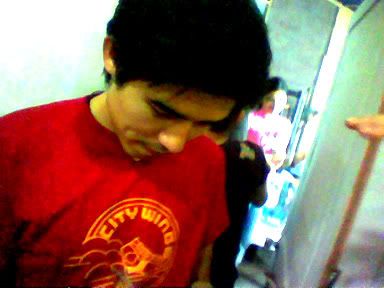 Champ Lui-Pio, HALE's foreign-sounding vocalist
Went to Glorietta to watch one of Hale's gigs with SpongeCola and SugarFree (and partly to have my CD signed na rin). I got to Glorietta just in the nick of time, when Hale was performing their 1st song, Broken Sonnet. I was a bit hesitant to approach the band members to ask for an autograph, but when I saw other fans do their thing, I followed them and successfully had my copy signed. It was a very unusual experience for me, since I was standing near the backstage dressing room, where stars literally just pass by in front of me.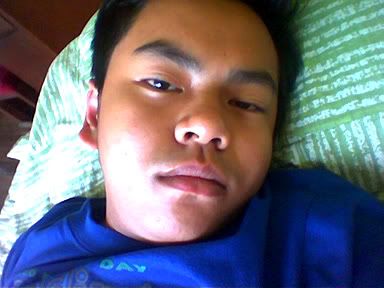 How did this picture get in here?!
Well, as always, random conceitedness. This time, I had this picture taken the very right moment I opened my eyes in the morning. Huh… talk about major conceitedness!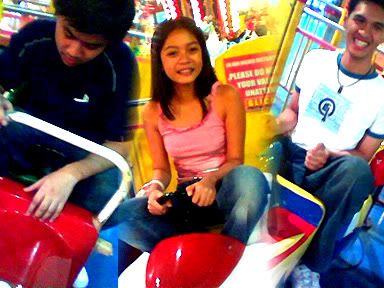 Wow grabe second childhood!
Kuya Juvelan, Ate Grace and Eiman

Hung around Megamall with fellow Dayzer friends last May 19 to watch Star Wars Revenge of the Sith. While waiting for the movie's playing time, we hung around EUREKA! first, and these three just couldn't restrain themselves from riding those kiddie rides! Haha… they were so funny I had to take a picture of them!
Well, those are all for now. I still had tons of pictures but most of them are of me, me and me. Yes, I know, I love myself, don't you? Har har… I also noticed something about my photo subjects these days… I'm starting to love taking pictures of sceneries, and I was getting kinda good at it, I think. I'll post some sceneries later on. CIAO! >_^