I miss Don Bosco Batulao. This was the place where we held our Last Retreat as a Class last October 8. The place was serene, pristine and awestrucking. The perfect place to sit down, close your eyes, and reflect, communing with nature.
I was so elated when I received an invitation from my YUPPEACE Ate's to join their trip to Batulao this weekend for the Easter Vigil, and eventually for Ate Alona's christening as well.
But chances are, I am unable to join the trip because of lack of, hear this, transportation space.
Well, I guess the trip really wasn't for me, although it'd do me real good to escape the hustles and bustles of the city for a while, and, finally, scream my lungs out into the open and nobody would care.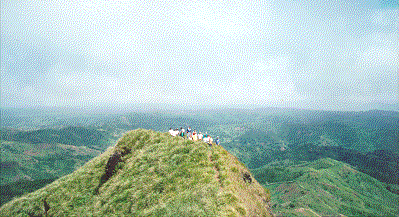 Haaayyy… Batulao… kelan tayo muling magtatagpo? Hanggang picture ka na nga lang ba?
*MADAYA! Bakit si Lolo Ron, kasama? Pang-matatanda nga lang ba itong trip na ito? :p*
**Haaayy… I feel so miserable… can't get over… pero kailangan… haaayyy… Can't fight the moonlight… can't fight the feeling… di bale… may next time… may next time…**