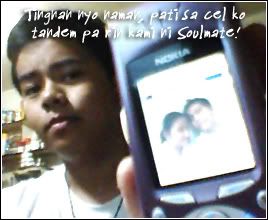 I have a cellphone nah! I'm so guilty when mom told me she'd have the other fone fixed and she'll give me her N3650 phone… Awww mom, I LOVE YOU! If you only knew how elated I am right now…
I HAVE A PHONE NAAAHHH!!! AAACCCKKK LET'S CELEBRATEE!!!
Anyways, for those who would want to reach me through the humongous network called the SMS, my Sun cel number is 09223719122 (I had to look at the phone book because up until now, I don't memorize my own number). And yes, I'm a cheapo, so I would love it if you're a sun subscriber, too, so we could call and text 24/7.