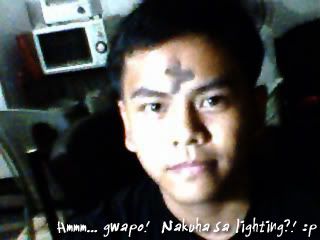 "Repent and Believe in the Gospel," the minister utters as he daubs his bare hands into a small bowl filled with black liquid, then places a cross symbol across your forehead. You've been marked.
It's that time of the year again! Nope, not christmas. Nor New Year. Not even my birthday! It's Lent! 40 Days of preparation for a week of reliving Christ's Passion, Death and Resurrection.
It's unusual to have Ash Wednesday at an early time like this. Usually it's dated on March or late February, but not actually February 9!
It's that time of the year again when you chance upon people along the road sporting a black cross across their forehead. It's the time of the year again when the black cross is the 24-hour fad, and if you're Catholic and you don't have it, you're out.
I remember the time when we would celebrate Ash Wednesday at school when I was younger. We would run in front of the line just to be the first ones to get marked by the cold, black ash on our foreheads. We would then have a game of who gets to keep the cross in his forehead for the longest time. Most touch it the moment it gets into their forehead, so it gets erased immediately. Some accidentally touch it when in a state of confusion, curiosity, frustration or just being tired. Sometimes, when in a rough situation, sweat forming in the forehead washes it away. Or some, for no apparent reason, just feel an itch in that area then quickly scratches the cross out. I never win in these types of games.
But more than just a fad or a game, the ash cross on our foreheads is a reminder. It is put there so as to remind us that, human as we are, we were made from ashes, and to ashes we shall return.
Repent and Believe in the Gospel. Lent is a season when God calls us to go back to Him. He recalls us so that we won't stray away aimlessly in our land. Kuya Jess calls us back to be with Him again, and what better way to return to Him than to admit all our sins and trust in His words.
Here's a passage to live by: "The name of this season, Lent, is not such a coincidence after all. Lent is the past tense of Lend. This season reminds us that after all, we are living on BORROWED Lives."
Give it a thought.
I'm so struck by the message of the mass I attended just a few minutes ago. I was so struck that I will, hopefully, make fastings on my own, not just with food but also with my deeds. I'm gonna write all my bad habits on a paper and put it in my wallet, so as to serve as a reminder that I shouldn't do those things during Lent. Who knows, maybe I might be able to take it a step further, and totally eliminate those bad habits after Lent.
Pray for me. I'll be praying for all of you.
Galing ako kanina ng Disco. Haaaayyy… ang sayang makausap si Kuya Jess muli sa Disco… oo nga't madalas ko syang kausap dito o sa prayer, pero iba na talaga kapag harap-harapan… Na-miss kong gawin yun. ü