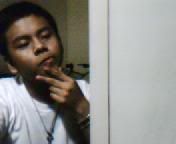 Ewan ko ba kung bakit ako ganun ka-apektado… para kasing ewan… nababastos na naman ang mga babae… parang playing cards… one second you have this card in your hand, another second you deal it… bakit parang ganon kabilis na lang yun?
Pag-ibig talaga… minsan gusto ko na lang kantahin ang "Stupid Love", kung di nga lang sya corny eh. Is love really stupid? Is it love that is stupid? Or is it the lover that is stupid?
Either way, there's something or someone that is stupid.
Kung gano kagulo ang post ko ngayon, ganun kagulo ang pag-ibig. Agree? Apir tayo! Don't Agree? Shut up na lang…