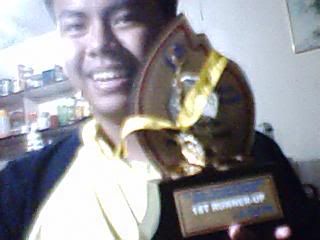 I won!

Yes! Kahit na 1st Runner Up lang ang nakuha ko bawing-bawi pa rin ang weeks of training ko! Bakit kanyo? I got a dozen more than what I bargained for!
Before we went to DB Makati, I visited Kuya Jess first. I told Him that what comes out of this competition, I'd take in wholeheartedly. I relayed to Him my intentions of going there, that I was there not to win an award but to deliver a well-to-do speech, in answer to my weeks of training.
But lo and behold! I got tons more than what I bargained for! I won 1st Runner Up, second to my teammate Jacques who won the grand. I learned how to be totally confident when on stage, and how my mantra "I'm bigger than the world" helped me be more confident. I've learned how "intentions" clarify certain emotions and reactions of people. And lastly, I've learned how to really be a servant-leader.
Well, I would like to take this opportunity to thank my two most beautiful trainors in the whole wide world, Ma'am Cylie and Ma'am Carmie. I'd also like to thank and congratulate my teammate, Jacques, and all of the people who showed support for this endeavor of mine.
Here's to more extemporaneous speaking activities in the future…
…Joke lang. :p