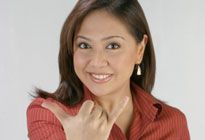 Rumors had been going around school this morning that Y! Speak, the ABS-CBN youth-oriented debate show hosted by Ryan Agoncillo and Karen Davila together with Bianca Gonzales, is going to have its taping in our school that same afternoon.
I went to confirm the rumors with Ron and in fact they were true. John Paul Rosal, a friend of mine, will be standing as one of the panelist together with Adrian Cayetano, the College SC President.
Only 10 students were chosen from our department, five of which came from the student council and the five remaining were the top 5 of the batch. Since I've been a wonky rank-player I wasn't chosen as an audience, but it's okay.
The topic centered on TDA, yet another trend of the Y Generation. TDA meant Technological Display of Affection. If PDA is for the public, then TDA is for the cellphones, beepers, computers, PDAs (how ironic!), etcetera. TDA talks about the luscious display of FKs, hugs, smacks, beso-besos and other things couples do through technological devices. I have yet to react on the points of the panelists because I haven't personally watched the episode yet.
We were told that the guest panelists were Jean Garcia, Nina Ricci Alagao, and many others whose names I forgot. I wanted to see Bianca Gonzales, but to no avail.
The episode might be aired on Saturday, January 29 2005, so watch out for it!