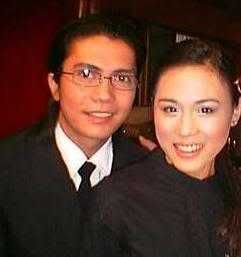 It's been confirmed! Toni Gonzaga has now officially signed up as ABS-CBN's newest talent.
The first time I saw Toni Gonzaga was on a Sprite Commercial where she exclaims the oh-so-famous line, "I LOVE YOU PIOLO!!!" She then went on to host SOP, where she didn't even gain much of stardom's light.
Just last year, she went on to host a comedy news program with Vhong Navarro and Drew Arellano, another talent from GMA. This gave Toni her well-deserved spot in the limelight.
Toni is comedic in nature, and her ad-libs are really witty. One reason I watch Wazzup! Wazzup! is her, because of her real funny delivery of a real funny news.
ABS recently offered her a contract to join their long list of talents, coming along to the rejuvenation of their program line-up. Just this week, Toni was formally welcomed to ABS-CBN as one of its talents. The reason she accepted the job?
LIBRE, the Inquirer's free newspaper, puts it this way: If Toni were to be an exclusive star of GMA (just like her recent status at ABS), it would mean she would have to leave Wazzup! Wazzup! at Studio 23, since it's a subsidiary station of ABS-CBN. That would also mean Toni gets stuck with all her recent GMA shows, earning only a small piece of chunk in cash, because Wazzup! brings in more of her income. BUT, due to ABS' quadruple offer, if Toni makes the cross to the other station, then she'd be earning even 5 times her recent pay. She's the winner in this crossover.
And not only that, Sitcom Producers have been arguing as to what Sitcom Toni gets to be a mainstay on. Toni is such an adorable actress, and having her on one show would mean ratings. Rumor had it that she'd be co-hosting side by side with Willie Revillame on his new game show, but she turned it down in respect to Eat Bulaga!, who shares the same time slot. She owes a lot to that noontime show.
Go Toni! It was a wise move to move to Dos! ü